Online shopping has been skyrocketing and it is very interesting to ask what cities are trying to do about it?
With the extremely fast growth of Online sales, this increase is taking it head on with almost all the big retailers worldwide. As per statista, in 2016, global e-retail sales grew 24.6% compared to the previous year, making up 8.7% of the total retail market worldwide.
Double-parked trucks, red brake lights and cardboard boxes littering the sidewalk – this is what growth of "online shopping" has resulted in almost everywhere in the world.
Parcel volumes have surged almost 50% globally between 2014-2016, according to estimates from Pitney Bowes, with an average growth rate of 17-28% annually estimated up to 2021. This rising number of deliveries are concerning w.r.t traffic and pollution across the world, especially in rapidly growing cities in Asia and Latin America.
In Europe and Asia, many cities have even barred deliveries during certain hours, built warehouses to centralize distribution and provided millions in funding to encourage firms to switch to quieter & greener equipment.
Impact on Environment
More investment is going on in this sector in terms of more warehouses, transportation hubs, aircrafts and research cost. New and innovative ideas are coming onboard by a variety of startups resulting in more weekend hours and technology to ship products to customers. Amazon already has the "Prime" service which claims to deliver purchased products in a mind-boggling 1 day.
Start-ups such as www.GetMyParcel.com are getting in on the game and provide a reliable technical and logistical solution to businesses to help maximise existing logistics infrastructure to get on the online order fulfilment. They work with multiple courier suppliers and that makes GetMyParcel not just more optimized in logistics services but also more greener.
Innovative solutions
Many startups are finding more innovative solutions around deliveries and making it more efficient and bring down costs.
There has been innovative ideas like lockers, eBikes, and collection from stores, or from central collection points near customers homes. There is a news that Amazon has even started selling a smart lock, which will allow couriers to let themselves inside homes to drop off packages, reducing failed deliveries.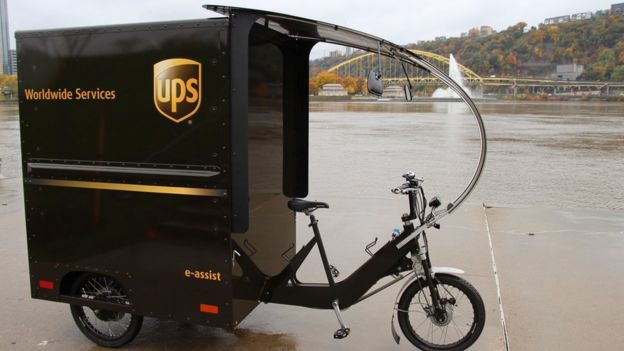 A UPS eBike in Pittsburgh, Pennsylvania
Cities in Europe seem to have taken other kinds of steps to handle these pressures. As per online reports, Paris, for example,  seem to have sponsored logistics hubs, while one of London's bus operators is looking at the possibility of using buses for parcel delivery.
Drones are definitely a new and upcoming parcel delivery mechanism. The day is not far off when we would be expecting a "delivery drone" for every delivery and there will need to be a delivery drone point in every house, if we need to get our deliveries.
The world is of course changing below our feet and its up to the cities, governments, customers and innovators to find more greener and better solution for a sustainable future.